Product :

BeoSound 8

Produced from :

10 Nov 2010 - Summer 2012

Designed by :

David Lewis

Finish :

White / Black (see description for fret colours)

Desirability :

4
Available in both black or in white, the BeoSound 8 iPod/iPad player was introduced in November 2010. It was delivered with its own round remote control unit (see image below) and came complete with table and wall stands. Unlike most Bang & Olufsen products which are manufactured either in Denmark or the Czech Republic, the BeoSound 8 was produced in China. BeoSound 8 was replaced with the AirPlay-enabled BeoPlay A8 model in summer 2012.
Speaker docking gets serious with Bang & Olufsen

BeoSound 8 is a powerful new speaker dock for the iPad, iPhone and iPod that takes the digital music experience to a completely new level, conveniently and seamlessly.

BeoSound 8 delivers breathtaking sound performance and offers elegant design and a simple user interface. It is a fantastic solution for enjoying digital music either from your iPod, iPhone, iPad, PC or Mac. Simply by connecting a device to BeoSound 8, digital music can be unfolded to its true potential.

The light and characteristic design of BeoSound 8 makes it highly flexible in use; it is perfectly suited as a music system not only in a main room, but also in the kitchen, on the patio or even at the summerhouse. BeoSound 8 can be placed on a wall bracket or any flat surface and still deliver fantastic premium quality sound.

To complete the outstanding sound performance BeoSound 8 has a manual room adaptation switch with 3 positions which allows it to be placed anywhere without compromising the sound performance.

Cool and simple to use

Simply plug BeoSound 8 in and connect your device by docking it or connecting it using the AUX line-in or USB ports and you are ready to listen to your favourite digital music in no time. You can easily control BeoSound 8 using the dedicated remote that comes with the product, or you can control it with one of Bang & Olufsen's intelligent remotes if that's what you prefer.

Another cool application of BeoSound 8 is that it can be networked using the Apple Airport Express and in this way your music collection can conveniently be streamed wirelessly from your PC or Mac to BeoSound 8.

Magical 2D design

BeoSound 8 is available in black and white. Choose from a variety of optional soft coloured speaker fronts to customise it to its new home. The cone shaped speakers give BeoSound 8 a magical hovering 2D appearance as it hides the actual depth of the speakers and the feet lift it up giving a light and slim design.

In addition, the speakers of BeoSound 8 are outlined by aluminium rings adding a distinct Bang & Olufsen look and feel. With BeoSound 8, Bang & Olufsen has once again proven that it is leading within the field of innovation and design.

"We believe BeoSound 8 will resonate with many new and existing customers due to its many colour options, versatile wall and table mounting solutions and unrivalled sound quality" said Zean Nielsen, President of Bang & Olufsen. "It sets a new standard for hi-fi sound from a sound dock."

Bang & Olufsen Press Release (10.11.10)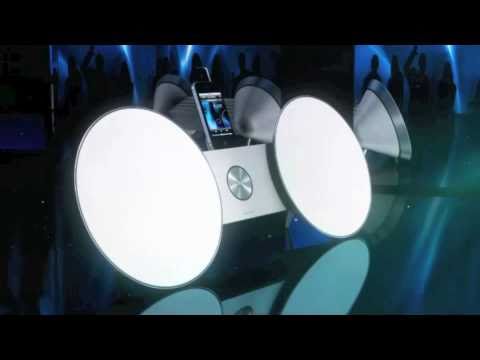 Room Adaptation switch
BeoSound 8 comes complete with a table-top stand as well as a wall stand. The unit's conical speakers allow BeoSound 8 to blend into a corner in order to save space.
However, as a loudspeaker's performance is strongly influenced by its physical position in a room - with corner placements especially difficult with walls interfering with the reproduced sound, making bass frequencies sound 'fuzzy' - BeoSound 8 can be adjusted to its situation by means of a manual position switch. The switch adjusts the speakers' performance according to whether the system is placed in a corner, against a wall or standing freely. The three positions change the equalisation of (mainly) the bass channel according to a room response target based on a large number of measurements taken in different positions in different rooms.
This feature ensures faithful sound reproduction at all times with individual freedom of placement.
Adaptive Bass Linearisation (ABL)
ABL is a Bang & Olufsen-patented solution to increase bass frequencies in small rooms. The process utilises surplus capacity in the built-in amplifiers and driver units at normal listening levels, for better bass reproduction. However, ABL entails a risk that the driver unit might not be able to handle the extra boosts at higher volume levels. To solve this, bang & Olufsen has introduced an electric circuit to monitor the sound level, so when the music peaks in the lower frequency areas and maybe come close to distorting the sound quality or damaging the driver unit, the bass signal is reduced accordingly.
Although Bang & Olufsen developed Adaptive Bass Linearisation for high-end speakers like BeoLab 9, the process can also be used on small speakers - such as those in the BeoSound 8 - to enhance their sound in small spaces.
BeoSound 8: Best selling audio product in Bang & Olufsen history

Struer, May 2011 - With more than 25,000 units sold since its launch in November 2010, the acclaimed BeoSound 8 – Bang & Olufsen's powerful and distinctive looking speaker dock for iPad, iPhone and iPod – is the fastest selling audio product in the company's 85-year history. And that is even before the product is revealed in China, where Bang & Olufsen expects the product to be very successful.

BeoSound 8 will be launched in China on May 10th at a spectacular media and VIP customer event in Shanghai. The event will take place at the MOCA (The Museum of Contemporary Art), which is located in the cultural heart of Shanghai, and will be hosted by Bang & Olufsen's newly appointed President and CEO Tue Mantoni.

A true bestseller – even before China launch

For the first time in Bang & Olufsen history, an audio product has sold more than 25,000 units in the first six months. This makes it an absolute bestseller.

"BeoSound 8 not only offers excellent sound, distinctive design and a simple user interface, it is also one of the few iDocks on the market that supports iPads," says Product Manager Rie Kold Pripsø from Bang & Olufsen.

"More than 20 million iPads have been sold world-wide, so the potential for increasing the sales of BeoSound 8 further is certainly there and we're confident that we will take an even bigger bite of the Apple in the future," says Rie Kold Pripsø.

Bang & Olufsen expects BeoSound 8 to be successful in the Chinese market. The product has already sold very well in many of Bang & Olufsen's key markets, but not surprisingly, BeoSound 8 has experienced the greatest success and the highest sales rates in the US, Apple's home country.

Positive reviews

The sale of BeoSound 8 has also been boosted by the many positive reviews in international audio magazines. Headlines like 'Danish Delight' and 5-star reviews in respected audio magazines have certainly contributed to the success of the product. BeoSound 8 is praised for its striking design, its crisp and clean sound quality and its quite unusual iPad compatibility. In the prestigious German magazine Audio, for example, the Editor concludes that "BeoSound 8 is indeed luxury in the best sense: You don't have to have it, yet you want it".

BeoSound 8 also receives top grades from John Archer from the internet magazine Trusted Reviews who compares the product to a piece of art and is particularly excited about the way Bang & Olufsen succeeds in making the product look good with both iPhone/iPod and the much wider iPad docked on it.

BeoSound 8 is also praised by Ty Pendlebury from the Australian internet magazine cnet.com.au who gives the following recommendation of the product: "If you're looking for a top-of-the-line iPod dock that not only supports iPads but looks and sounds great, Bang and Olufsen's BeoSound 8 is what you should get".

Source: Bang & Olufsen Press Release (10.05.11)
BeoSound 8 turns up the colour of music

The highly-acclaimed speaker dock from Bang & Olufsen, BeoSound 8 introduces a range of new lively and warm colours for the autumn.  BeoSound 8 delivers breath-taking sound performance and offers elegant design which is now spiced up with four new warm colours: red, orange yellow and silver. "BeoSound 8 has been a fantastic success for Bang & Olufsen since its launch – one of the best-selling products in the Bang & Olufsen product portfolio ever, and we want to continue this success", states Product Manager, Thomas Pedersen.  BeoSound 8 is a fantastic solution when you want to enjoy digital music either from your iPod, iPhone, iPad, PC or MAC, and is looking for a fantastic sound performance.

"It will of course still be offered in the elegant black and white versions, but we want to keep up with trends of time and add to the concept by constantly changing the visual expression adding new colours as we go", says Product Manager, Thomas Pedersen. "The light and characteristic design of BeoSound 8 makes it highly flexible in use; which is why it is important that it fits into a modern home reflecting the colour trends we see".

BeoSound 8 is perfectly suited as a music system not only in a living room, but also in the kitchen, on the patio or even at the summerhouse.

Cool and simple to use
Simply plug BeoSound 8 in and connect your device by docking it or connecting it and you are ready to listen to music in no time. You can also easily decide to lean back and control BeoSound 8 using the dedicated remote that comes with the product, or one of Bang & Olufsen's intelligent remotes if that's what you prefer.  With BeoSound 8, Bang & Olufsen has once again proven that it is leading within the field of innovation and design.

Press Release (22.09.2011)
Specifications:
Power Consumption: Typical: 10W, Standby: 0.4W
Loudspeaker Cabinet Principle: Sealed box
Effective Frequency Range (measured at -10 dB re. Ref level (200-2000 Hz): 38.3 - 24,000 Hz
Connections: iPod/iPhone/iPad connector, USB Line-in via Phono
Accessories: BeoSound 8 remote control (inc), Table stand/feets (inc), Wall bracket (inc)
Fabric colours: Purple, black, green, blue, yellow, black & white (original colours); red, orange, yellow, silver (from 22.09.2011)
Dimensions (W x H x D / Weight): 66.1 x 23.9 x 16.4 cm / 4.25 kg
Material(s): Painted plastic, aluminium and fabric
Download user manual (multi-language) for the BeoSound 8